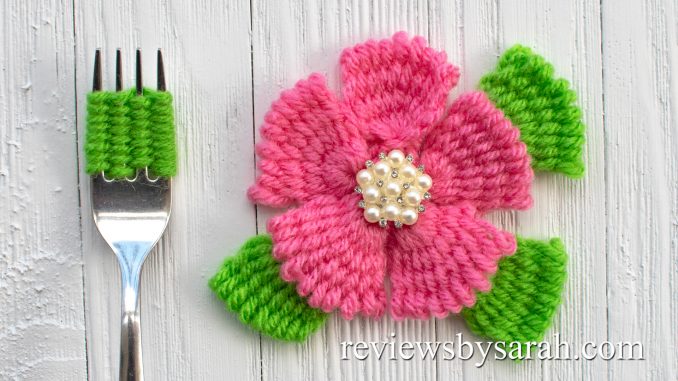 Did you know you can make a yarn flower with a fork? It's a combination of peg weaving and stick weaving. And maybe a little bit of sewing and embroidery thrown in the mix. Yarn flowers are a fun craft for any age.
Be sure to pin the following image to your Pinterest board! Then continue reading below.
Pinterest
Here's a nice image to pin on your Pinterest boards.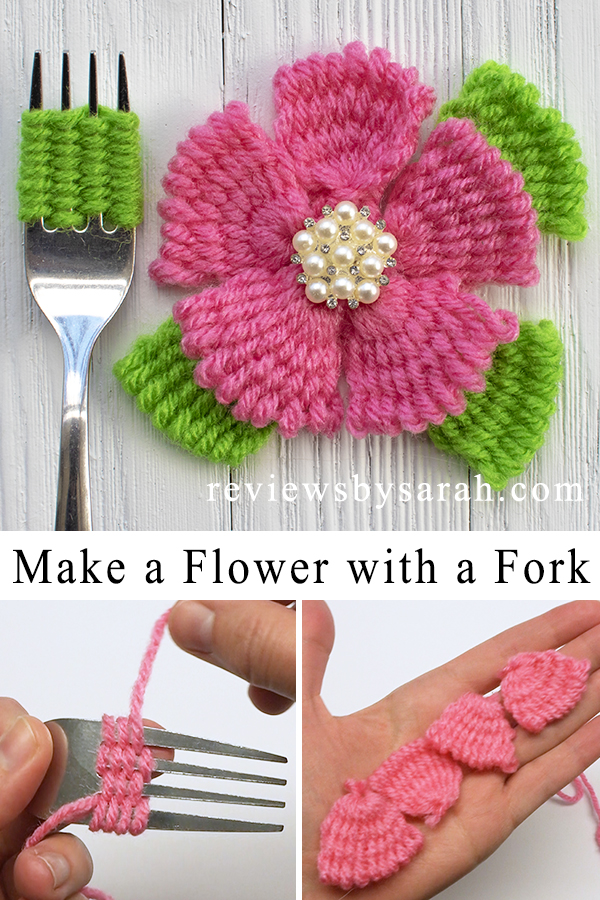 Instructions
Time needed: 30 minutes.
Here's how to make these fun flowers.
Find some yarn.

I'm using Red Heart Super Saver for my flower. It's a 100% acrylic yarn that works nicely for weaving these flowers.

Find a dinner fork.

I like using a dinner fork because it's slightly larger than a salad fork. You might not want to mess around with your good forks. If so, visit your local discount store and pick one up for $1. The fork I used in the video was from my local dollar store.

Find scissors and a yarn needle.

I'd highly recommend using a blunt-tip yarn needle. Don't need to accidentally poke yourself with a sharp sewing needle!

Wrap the yarn around the fork.

I show in the video how to weave the yarn in and out of the tines. Did you know the prongs of the fork are called tines? Might be useful if you are ever a contestant on Jeopardy.

I like to wrap my yarn so there are 10 loops at the top and 10 loops on the bottom.

Run the sewing needle under the loops.

This process, shown in the video, helps keep the loops together and forms one flower petal.

Make 5 petals.

Remember to leave a long tail end on the first petal for connecting the other petals.

Add a gem or button to the middle.

You can sew or glue the button onto the flower. Then sew or glue the flower onto a hat, scarf, notebook, bag, or even a hairpin.
Video
Click the play button to watch the video below. And if you like this, be sure to subscribe to my channel to get notified of new videos!